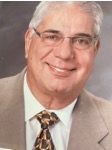 Vice President Exploration
Mr Zayat is a renowned explorationist with a long professional career spanning over 40 years in the oil industry, with a major fully integrated oil company ExxonMobil, and most recently with Centurion Energy International and Sea Dragon Energy.
During his career, Mike held various technical, managerial and consulting positions, from exploration geologist to Senior Vice President for Exploration and Business Development. He has a successful track record in exploring, leading and managing teams, in the discovery and development of hydrocarbon resources, and evaluation of opportunities, in Canada, the Middle East and North Africa.