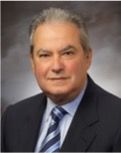 Mr. Arrata joined as the Chairman and CEO of Delta Energy Resources in 2015. He is a seasoned industry executive with a wealth of upstream oil & gas experience in Canada, the MENA region, and Asia. He was previously The CEO and Chairman for Quantel Engineering, QUEST An Alliance Corp., Centurion Energy International Inc. and Sea Dragon Energy.
In the course of a 40 year career, Mr. Arrata has founded and sold 5 oil and gas companies involved in E&P and EPC consulting. Most notably, Said took over as the Chairman and CEO in 1997 of the struggling Centurion Energy and transformed the company from a 1,600 bopd company to an internationally recognized oil and gas E&P company sold to Dana Gas International for over $1.3 billion.
A part of Mr. Arrata's legacy are the 11 EPC ventures that were born and exist today completing over $500 million per year in projects.